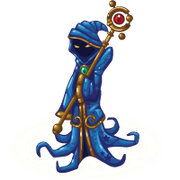 Alakazakala
250px
Alakazakala's name alone is magical enough to make monsters think twice!
Monster Info
Name
Alakazakala
Element
Magic
Rarity
Legendary
Evolves From
Kazam
Evolves Into
None
Alakazakala is a Magic type monster of the Legendary rarity.
Alakazakala is visually represented by a blue-robed wizard with a golden staff.
Alakazakala is the final evolution of Whiz.
Abilities
Born with

Flash Hit III:
Hits an enemy monster with Magic damage
Trainable
Dark purge, hits opponent with magic power, dazes opponent for 3 turns
Pummel, hits opponent with regular damage
Magic field, improves defense for 3 turns

Can be Found
This Monster can be found on the following islands