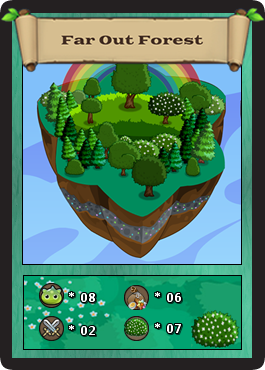 Far Out Forest is the first of the Quest Islands you encounter
Like all islands, There is a Normal, Hard, and Heroic Mode
Monsters
You will find the following monsters : (Incomplete?)
Quests
Normal
Hard
Heroic
Layout
Synopsis
Far Out Forest Contains a minimum of 6 screens.
Within those screens you will find
2 Clashes
8 Monster Battles

6 Mandatory Battles
2 Optional Battles

7 Clearable Bushes

2 Mandatory Bushes
5 Optional Bushes

6 Treasure Chests
Screen by Screen Detail
Screen 1
Contains an unavoidable clash with Allison, one optional clearable bush and 1 optional Treasure Chest.
The clash with Allison involves battling 2 Normal monsters - Cheeoo and Ekko. Like all Clash battles, neither of Allison's monsters are tameable.
Screen 2
Contains one battle, one clearable bush, one optional battle, and one treasure chest
Screen 3
Contains two Battles, one optional clearable bush and one treasure chest
Screen 4
Contains one Battle, one clearable bush, two optional clearable bushes, one optional battle and two treasure chests
Screen 5
Contains two Battles, one optional clearable bush and one treasure chest
Screen 6
Contains one Clash with the end boss, Kyle. Kyle has 3 Plant monsters -
Pico
,
Camo
, and
Curly
. Like all Clash battles, none of Kyle's monsters are tameable